Skip to Content
How Electrolysis Works to Permanently Remove Unwanted Hair
Every patient is evaluated on skin type and the history of the affected area. The most important aspect of electrolysis is the protection of the skin. The texture of the hair and the sensitivity of the skin determine how each hair will be treated.
An electrolysis treatment involves the inserting of a sterile probe, the same size as the hair, into the hair follicle opening down to the DERMAL PAPILLA. The dermal papilla is the electrologist's target. It is the part of the follicle that contains blood and nerves and feeds the growing hair. If the papilla and the regenerative cells surrounding it are destroyed, the hair will die. When the probe is in place, a high-frequency sound wave is applied that will destroy the papilla and the surrounding cells and loosen the hair in the follicle. The hair is then removed.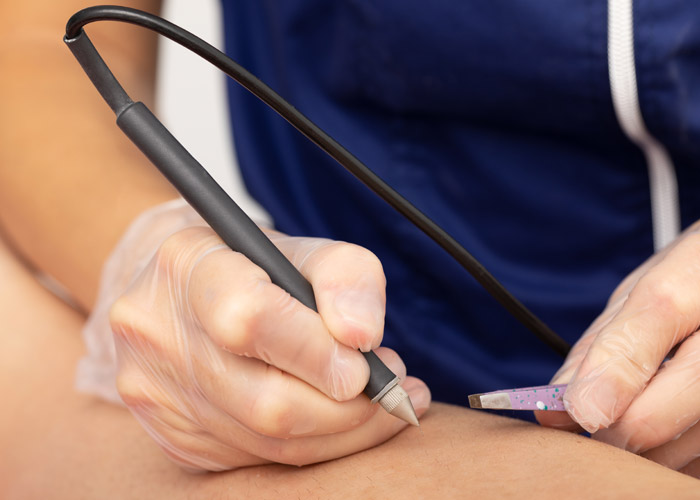 Schedule a Consultation Today
Many hairs will be eliminated with only one treatment, but some will need two or more treatments to achieve permanency. Electrolysis involves a series of treatments over a period of time. The length of time depends on the amount of hair, its coarseness, the cause of the excess hair and many other factors, but once the dermal papilla has been eliminated, the hair is dead and will not regrow.
To set up a private consultation with East Memphis Electrolysis, contact us here or call 901-682-9393.
What Our Customers Have to Say:
Years of experience are expressed in the quality of work. I have light colored hair and laser hair removal was not going to be effective and a waste of money for me. EME has provided me permanent hair removal. For any hair removal needs in the future, I'll be a returning client.
East Memphis Electrolysis is professional, discrete and compassionate. Because of their work, I'm no longer ashamed of my excess hair and that has truly changed my life. I would highly recommend them.
I had tried laser hair removal and over the counter devices to remove my unwanted facial hair, but none worked for me. Lasering was expensive and if you don't have dark hair on light skin, it really doesn't work. I've come to here for a couple years now, and I can truly say it's been effective at stopping my unwanted hair growth.
Set up Your Consultation Today