Skip to Content
The History of Electrolysis
Electrolysis began in October of 1875 when Dr. Charles Michel, a St. Louis physician removed ingrown eyelashes by inserting a needle with current into the hair follicle. With this procedure, the field of electrology was born and unwanted hair from various parts of the human body could successfully be permanently removed.
This procedure proved to serve both the medical and cosmetic needs of women and men alike. Prior to the practice of Electrology, the removal of unwanted hair from any part of the body was dealt with either through the surgical removal of the actual hair follicle or through topical applications of sulfuric acid.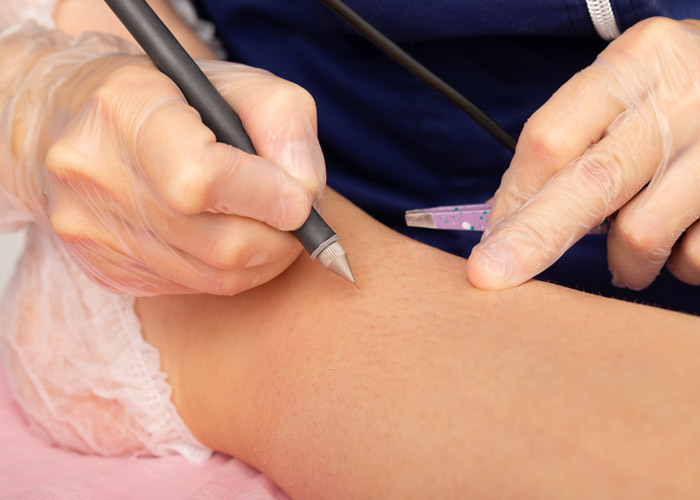 About Electrolysis
From its infancy, the practice of electrology has proven itself as the only recognized form of permanent hair removal and has served to change and improve the lives of millions in a positive way.
For information on electrolysis as a method for permanent hair removal, go to our How Electrolysis Works page. Or to set up a consultation immediately, call East Memphis Electrolysis at 901-682-9393 or go to our Contact Us page.
What Our Customers Have to Say:
Years of experience are expressed in the quality of work. I have light colored hair and laser hair removal was not going to be effective and a waste of money for me. EME has provided me permanent hair removal. For any hair removal needs in the future, I'll be a returning client.
East Memphis Electrolysis is professional, discrete and compassionate. Because of their work, I'm no longer ashamed of my excess hair and that has truly changed my life. I would highly recommend them.
I had tried laser hair removal and over the counter devices to remove my unwanted facial hair, but none worked for me. Lasering was expensive and if you don't have dark hair on light skin, it really doesn't work. I've come to here for a couple years now, and I can truly say it's been effective at stopping my unwanted hair growth.
Set up Your Consultation Today